Arctic Gardens
Ebook Login
Book Chapters
Arctic Gardens Ebook - Preface
Chapter One: "Beyond the Northern Divide."
This chapter is the only one researched and written exclusively by the authors, in this case Harvard Ayers. It is meant to familiarize the reader with a little-known landscape and its human component. Most people are fa- miliar with the Rockies and Appalachians and their outliers, but few know about the other divide that defines the hemisphere. In this perspective-building chapter, the authors will describe the geology, the ecology, the human cultures and the recent history of this land of north-running rivers, from the Kukpuk at Point Hope in western Alaska, clear to the Mack- enzie in Canada, a distance of almost 1,000 miles.
Chapter Two: "Caribou Nation."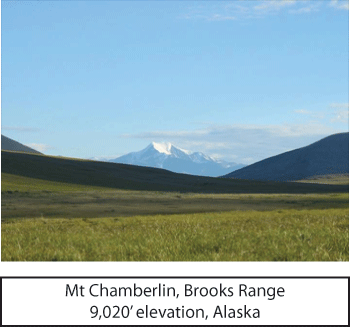 The Gwich'in people, some 8,000 of them, who spread out over thousands of square miles on either side of the U.S. and Canadian border, are literally the "People of the Caribou." Their 15 villages are strategically placed along the migratory routes of the 120,000-strong Porcupine Caribou Herd. The bulk of this chapter will be the story of the Caribou Nation as told by the Gwich'in themselves. We have visited villages as far west as Arc- tic Village, Alaska, and the eastern-most Gwich'in town of Inuvik, Northwest Ter- ritories. The chapter consists of the voices of the Gwich'in people from these two communities, and also from Tsiigehtchic (previously called Arctic Red River) and Fort McPherson in the Northwest Territories, Old Crow in the Yukon Territory (www.oldcrow.ca), and Fort Yukon and Venetie in Alaska.
Chapter Three: "The Gardens of the Inupiat and Inuvialuit."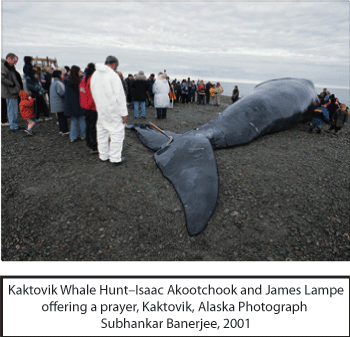 While most of the Inupiats and the Inuvialuit (the Alaskan Eskimos and Canadian Inuit) also count on caribou for sub- sistence, theirs is a vastly different relationship with the natural environ- ment. They are a people oftheseaaswellasofthe land, traditionally taking a living from the bow-head and beluga whale, seal, walrus, and fish, as well as caribou, moose, Dall sheep, and other land-based wildlife. The Inupiat settlements stretch all across the length of Alaska's northern coastal plain from Point Hope on the Chukchi Sea to Kaktovik on the Beaufort Sea. The Inuvialuit are centered on the Mackenzie Delta of the Northwest Territories. One exception to this sea-oriented subsistence practice Kaktovik Whale Hunt–Isaac Akootchook and James Lampe offering a prayer, Kaktovik, Alaska Photograph Subhankar Banerjee, 2001 Permafrost–in this case, white ice layer–melts and the Coleville River bank cave in near Nuiqsut, Alaska is the Inupiat village of Anaktuvuk Pass, Alaska, located in the largest pass through the Brooks Range. These people are 200 miles from the ocean and hunt primarily the caribou that migrate through the pass. For most of these Native people, then, their gardens are in the sea and on the land. Our interviews emphasize their whaling, fishing and hunting pursuits.