Arctic Gardens
Ebook Login
Book Chapters
Arctic Gardens Ebook - Preface
Preface
Many of you reading this book have no doubt been to Alaska or Canada as visitors. Some may have even toured the Arctic of one of the northwestern Canadian villages of the Yukon Territory or Northwest Territories, such as Old Crow, Yukon Territory, or Inuvik, Northwest Territories. I'd be willing to wager that few of you have visited in far north Arctic Alaska, for instance Barrow or Anaktuvuk Pass. They and other Native communities are indeed the focus of Arctic Gardens. If you are unsure where these places are, check out our regional map at the beginning of Chapter One.
In reality, only a few visitors traveling to Canada and Alaska ever see any Arctic desti- nations. In fact, few who reside in Canada and Alaska ever see them.
But they are there, way up there. And they are different from anything in the South-- way different! They are in essence, another world altogether.
It is widely understood that much of the United States' domestic oil comes from north- ern Alaska. Similarly, Canada has long hoped to exploit the natural gas and oil of the Mack- enzie Delta. But there is no pipeline to the south from the Canadian Arctic.
For both countries, environmental damage in the fragile Arctic is a great concern. In fact, the United States Congress has struggled mightily to decide whether to allow drilling in the coastal plain of the Arctic National Wildlife Refuge in northeast Alaska, as oil sup- plies and corporate profits have been pitted against caribou and other wildlife of this de- facto wilderness.
However, the area cannot be understood simply as a disembodied collection of envi- ronmental and economic issues. This region is also home to an abundance of cultures and distinctive voices including those of the Gwich'in Indians, the Inuvialuit and the Inupiat Eskimo, recreationalists, and others who make their home in, or visit, this oft-politicized place.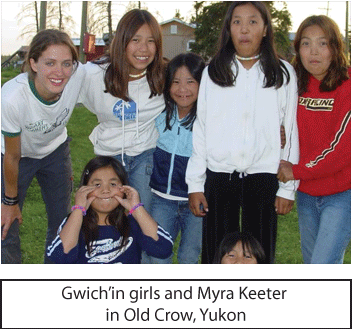 For the Inuvialuit, Inupiat, and Gwich'in people who live a subsistence lifestyle, the land and the sea are their gardens that provide nourishment, thus the title of this book. But these same gardens also hold energy and other resources that are in demand world- wide. This project's underlying assumption is that when citizens of non-Arctic regions of the United States and Canada hear the individual voices of the Arctic, the speakers will be transformed from abstract others in a distant, almost incomprehensible land, into what the Inuvialuit call themselves, "the real human be- ings." The voices included in Arctic Gardens are those of the people who live, work and play in the Arctic, those who truly have the most to gain and lose from what nations choose to harvest from their homeland. Arctic Gardens puts a human face on energy's front line, and gives special at- tention to the human rights aspect of the ongo- ing debate concerning Arctic energy extraction.
Given the rapidly changing state of all print- ed matter in 2009, you are reading this book in a format of your choice, either as an e-book or a paper copy, or perhaps both. The e-book ob- viously presents the opportunity to provide a broad range of experiences for the reader. At the click of a mouse, you can see some pictures not in the book or see those that are black and white, in color. With another click, you can go to one of the web sites we have listed that give you further information. You can see maps of countries/states/provinces, and zoom- in on photos of the community of the person interviewed.
But what if you prefer to do it the old-fashioned way, the paper copy book? Both have all the words of all the six chapters listed below. It's your choice. If you don't have both e- and paper book, you may want to consider it.