Arctic Gardens
Ebook Login
Book Chapters
Welcome to Arctic Voices
Arctic Voices is an international group of citizens who provide a voice for the cultures, the wildlife, and the land of the Arctic of Alaska and adjacent Canada.
Arctic Cultures at Risk
There are two groups of Native Americans that have, for more than 10,000 years, depended on the wildlife of the Arctic for their food and subsistence. In both cases, the majority of their populations are very concerned about energy development in the Arctic because of the major threats such development would pose to the wildlife and ecosystem on which they depend for survival. Read more here!
Arctic Gardens Video
Announcing the release of Arctic Gardens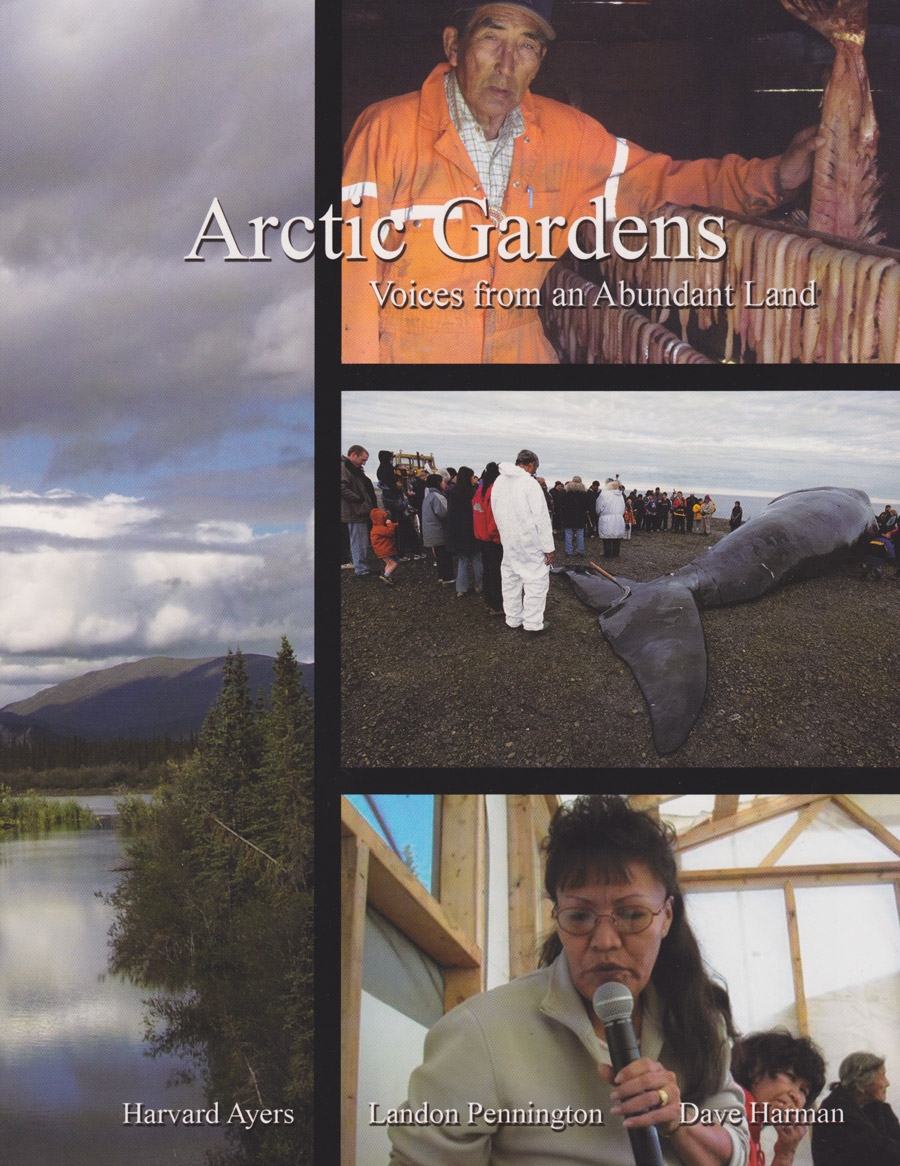 Arctic Gardens - Paperback - $21.95
Enhanced Ebook - $14.95
All pictures in color and live links!
Meet the people most affected by petroleum development and climate change in North America. Anthropologist Harvard Ayers, businessman Dave Harman and college professor Landon Pennington interviewed 100 Native people and other residents of the Arctic region of Canada and Alaska from the Mackenzie Delta to the Chukchi Sea. These Gwich'in, Inupiat and Inuvialuit, as well as transplants from the South, share the stories of their lives and their hopes for the future of the region. Arctic Gardens also includes a discussion of climate change in the Arctic and beyond for scientists and non-scientists alike.
"It has been said that those who control the language, the evidence and the ritual also control the power ... In the profound text and photographs of Arctic Gardens the authors have brought to life (the people's) desperate fight agains the 'carbon barons'" - Al Corum, EDD, Irish/Chippewa, Professor Emeritus, Appalachian State University
"Modern mass society, even with its glorious technology and science, appears to have lost the capacity to understand the critical intimacy God gave to the relationship of humanity to the earth ... but Arctic Gardens is a resource that may provide an alternative - some life-giving light." - Mark MacDonald, former Bishop of Alaska, National Indigenous Anglican Bishop of Canada
"The unifying theme of all the personal stories in Arctic Gardens is the mixed benefits and immediate threats posed by the ongoing development of fossil fuels in the Alaskan and Canadian Arctic, ... Every political decision-maker in Ottawa and Washington, DC, should grasp the Arctic realities contained in these personal stories, because everyone's future is linked to what happens in the Arctic." - John Bodley, PhD, Human Ecologist, Applied Anthropologist, author, Washinton State University